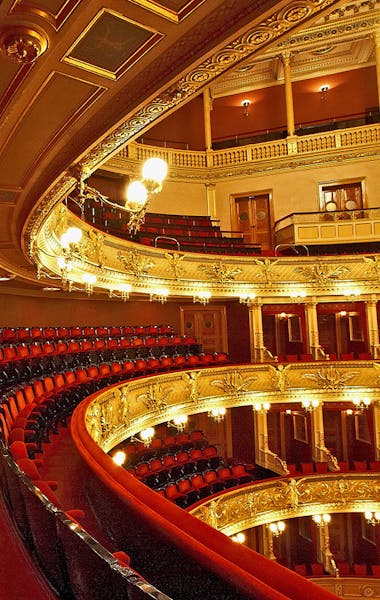 Tour

Guided tours at The National Theatre (ČJ)
in Czech language
Národní divadlo
Dear spectators,
On 10th of May, the National Theatre launched a presale of tickets for June 2021.

According to the government's decision, visitors must meet these conditions.
Tickets can be purchased on the website of the National Theatre, the Main Box office of the National Theatre on the New Stage is reopened. The other box offices remain closed until further notice.
Basic information
Venue
Národní divadlo
Approximate running time
50 minutes, no intermission
The Neo-Renaissance building by architect Josef Zítek belongs among the most important constructions in the country, not only in terms of national culture and history but also due to its architectural design.
About
In addition to the auditorium and stage, the regal interior also includes several assembly halls, lounges, a foyer or a terrace where you can admire the works of Bohuslav Schnirch, Mikoláš Aleš, František Ženíšek, Josef Václav Myslbek, Václav Brožík, Josef Tulka, and Julius Mařák. The land plot of the former salt warehouse purchased for the construction of the building bestowed the theatre a unique location on the Vltava riverbank, facing the panorama of Hradčany.
The tour will lead you throughout the individual floors of the theatre. We will visit the foundation stones in the underground, the ground floor with the auditorium, both foyers with works of art, as well as the highest place a visitor to the National Theatre can see - the terrace with trigae providing a view of Petřín Hill and Prague Castle.
Tour duration: approx. 60 minutes
Tour language: English
Max. number of persons in the group: 35
Admissions charges for guided tours in English:
Adult: CZK 260
Reduced entrance fee (children of 6–15 years-of-age, students, seniors 65+, disabled people): CZK 90
This tour is in the Czech language.
Schedule of tours in English here