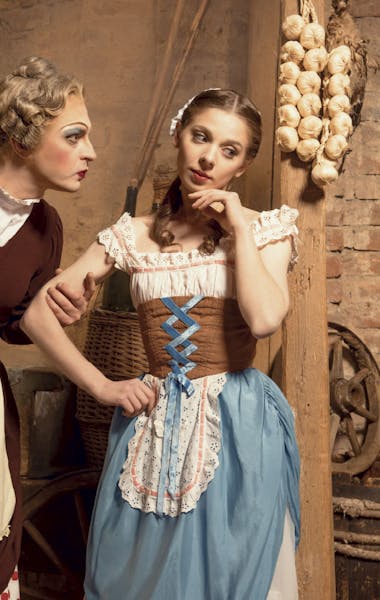 Ballet
La Fille mal gardée (The Wayward Daughter)
Spectacular ballet comedy by Frederick Ashton
The State Opera
For the whole family
Traditional adaptation
For children
Popular title
Dear spectators,
On 10th of May, the National Theatre launched a presale of tickets for June 2021.

According to the government's decision, visitors must meet these conditions.
Tickets can be purchased on the website of the National Theatre, the Main Box office of the National Theatre on the New Stage is reopened. The other box offices remain closed until further notice.
Basic information
Venue
The State Opera
Approximate running time
2 hours 15 minutes, 1 intermission 20 minutes
Premiere
Czech premiere: 19 April 2018 at the National Theatre
A fascinating comedy, pure pleasure, intoxication by dance! Very suitable for children! 
La Fille mal gardée (The Wayward Daughter) is one of the oldest ballets (it was created in 1789), it is still widely staged and hugely popular. Why is that? Because it celebrates the joy of life and – above all – love. It is colorful and full of humor, dancers make audiences smile. 
About
Will the wild young Lise fight for her love despite her desperately overprotective mother? Will she marry her beloved Colas? Or will she listen to her mother's words and accept Alain who is wealthy but a little bit "out of his head"?
This masterpiece of Frederick Ashton is inspired by the older French ballet of Jean Dauberval. We are invited to a picturesque countryside similar to Suffolk, a place dear to Ashton's heart.

The sets resemble cartoons, we enjoy folk festivities, dancing hens and a live pony and are drawn into a merry summer atmosphere.
Despite its joyful character the work is technically highly demanding, there are difficult pas de deux and solos, expressing the passionate nature of the young lovers.
Photo of the visual image: The Queens (Alexandre Katsapov a Mario Bakuš)
Photo: Martin Divíšek, Serghei Gherciu, Pavel Hejný
We extend our thanks to Mr. Jean-Pierre Gasquet, the holder of the rights to Sir Frederick Ashton's La Fille mal gardée, for his generosity.
Thanks to Kačina castle for providing of location for visual image photo shooting.
Practical information
Where to buy tickets
The National Theatre launched a pre-sale of tickets for June 2021. 
When purchasing online, we will send you an E-ticket by e-mail. You can pick up printed tickets in person at the Main box office of the National Theatre.
According to the government's decision, visitors must meet these conditions.
What to wear?
By their appearance, attire and behaviour, the audience is obliged to adhere to the accustomed practice expected from them when attending a theatre performance.
Parking at the State opera
While visiting the State Opera, you can take the slip road on Wilsonova street from the left lane close to the State Opera building to the Parking Centrum above-ground garage. The parking fee is 40 CZK/h.