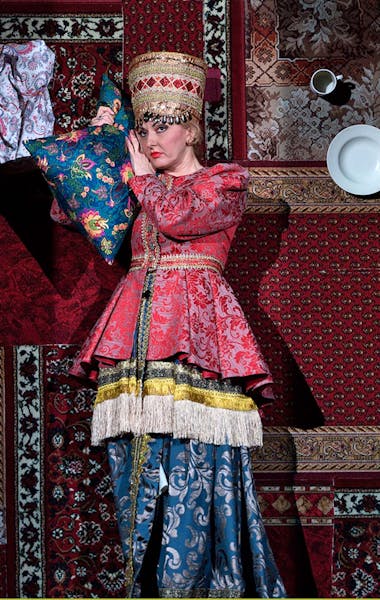 Opera
The National Moravian-Silesian Theatre
Lady Macbeth of the Mtsensk district
Dmitri Dmitriyevich Shostakovich
The State Opera
Dear spectators,
On 10th of May, the National Theatre launched a presale of tickets for June 2021.

According to the government's decision, visitors must meet these conditions.
Tickets can be purchased on the website of the National Theatre, the Main Box office of the National Theatre on the New Stage is reopened. The other box offices remain closed until further notice.
Basic information
Venue
The State Opera
Ensemble
The National Moravian-Silesian Theatre (Ostrava)
Approximate running time
2 hours 50 minutes, 2 intermission 25 minutes
Language
In Russian, subtitles in Czech, English
This seminal twentieth-century operatic masterpiece is a "tragedy-satire" of a wicked society desiring sexual dissipation. It is embodied by Katerina, a frustrated and oppressed housewife who resolves to kill people who might create difficulties for her.
About
Shostakovich composed this progressive and dissonant work of brutal emotionality for instrumental solos, choirs and intermezzos. At first the opera was hugely successful, with 180 repeat performances; however, in the period of the Great Terror the composer was condemned in the anonymous article Muddle Instead of Music (1936) and the opera was not performed again until the 1960s.
Practical information
Where to buy tickets
The National Theatre launched a pre-sale of tickets for June 2021. 
When purchasing online, we will send you an E-ticket by e-mail. You can pick up printed tickets in person at the Main box office of the National Theatre.
According to the government's decision, visitors must meet these conditions.
What to wear?
By their appearance, attire and behaviour, the audience is obliged to adhere to the accustomed practice expected from them when attending a theatre performance.
Parking at the State opera
While visiting the State Opera, you can take the slip road on Wilsonova street from the left lane close to the State Opera building to the Parking Centrum above-ground garage. The parking fee is 40 CZK/h.