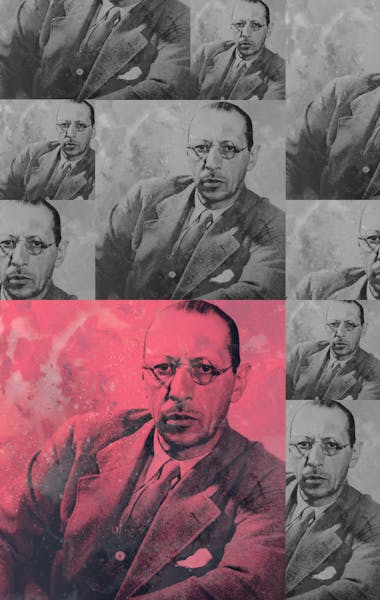 Concert
Stravinsky
Igor Stravinsky
Online concerts "... and yet they still resound!" on YouTube channel Opera Národního divadla. Stravinsky: from 21. 4. 2021
Online
Dear theatergoers, 
we will publish the new program for May and June in advance as soon as we know the opening date of the theaters and the conditions of their operation. 
Thank you for your interest and we look forward to meeting you live. 
All the box offices of the National Theatre are closed until further notice.
Basic information
Venue
Online
Approximate running time
1 hour, no intermission
Premiere
April 21, 2021

Online concert
Homage to Stravinsky
watch online free of charge from 21 April 2021
Musica non grata, an international cultural project of the National Theater and the German Embassy in Prague, presents a series of online concerts with music by Nazi-persecuted composers.

In 1998, Igor Stravinsky was ranked among the 100 most influential figures in 20th century history by the American magazine Time. His music is very extensive and very diverse. It has undergone radical stylistic changes from late Romanticism through expressionism, neoclassicism to the experimental trends of the 1950s and 1960s.

It is also characterized by the diversity of genres, forms, inspirations and themes and instruments. For our concert, we therefore deliberately chose five Stravinsky compositions, representing five different, even opposite worlds, which differ fundamentally from each other in their musical language, atmosphere, theme and instruments. Their only common feature is the author's admirably variable personality.

We present our tribute to Igor Stravinsky as part of the Musica non grata project, a multi-year cycle in which we present music by authors who in the past became undesirable for one of the totalitarian regimes of the 20th century, mainly Nazi. Paradoxically, Stravinsky is one of these authors - paradoxically, because he himself was not one of the artists who were particularly politically engaged, nor among those whose racial or social origin would arouse resentment among the representatives of totalitarian power. Nevertheless, his music was described as "perverted" in Germany in the late 1930s and as such was also presented in 1938 at the infamous Nazi exhibition Entartete Musik in Düsseldorf.
Repertoire:
The Spring, from Two songs after Sergey Gorodetsky's poems
Three Japanese Lyrics
Berceuses du chat (Cat Lullabies)
Pulcinella Suite
Mass for chorus and wind instruments